Need help with stump removal in Kenosha or the surrounding area? Contact Pollard Tree Industries today! With over 10 years of experience removing stumps and trees from residential and commercial properties, you can rely on us to take the proper care and precautions to ensure your stump removal is completed quickly and properly! You can count on us for a quality experience as customer satisfaction is our number one priority! We have a commitment to provide the best outcome when it comes to your tree and stump projects. Since 2010, Pollard Tree Industries has taken the opportunity to provide our community with a prime experience when it comes to lawn and tree services. If you need the job done professionally and correctly, you need Pollard! When you call Pollard Tree Industries for stump removal, hardscaping installation or any number of services we provide, you won't be disappointed.
Why Hire a Stump Removal Service in Kenosha?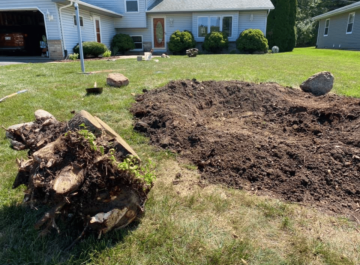 Most of our clients hire us to remove their stump(s) for any number of reasons. Some common reasons to hire a stump removal service in Kenosha include:
Unsightly stumps
Removal of tripping hazards
Removal of stumps for the purpose of building
Stumps can harbor disease and/or fungus
Removing a stump yourself can be a dangerous task! Between the use of gas-powered equipment and the possibility of injury, many choose to hire professional stump removal companies to take care of the project with ease. Ready to discuss your stump removal project? Contact us today!