Needing help with tree removal in Kenosha or the surrounding area? Contact Pollard Tree Industries today! With over 10 years of experience removing trees from residential and commercial properties, you can rely on us to take the proper care and precautions to ensure your tree removal project has no issues! We pride ourselves on providing exceptional work to our clients! We listen to what our clients are looking for and communicate throughout the process so our client is aware of what is going on. When you call Pollard Tree Industries for tree removal, or any number of services we provide, you won't be disappointed.
Why Hire a Tree Removal Service in Kenosha?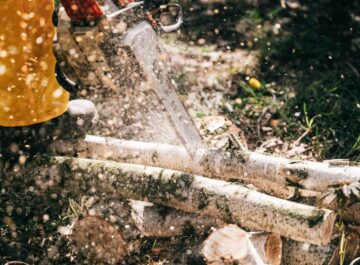 Most of our clients hire us to remove their tree(s) for any number of reasons. Some common reasons to hire a tree removal service in Kenosha include:
Removal of diseased trees
Updating landscaping with new tree options
Tree removal for the purpose of building
Safety concerns (trees overhanging buildings, etc.)
Removing a tree yourself can be a dangerous task! Between the use of gas-powered equipment and the possibility of injury from felled trees and limbs, many choose to hire professional tree removal companies to take care of the project with ease. Ready to discuss your tree removal project? Contact us today!